Kyma at the 1997 Audio Engineering Society Tradeshow in New York City
Pigeons swoop overhead and the delicious smell of espresso wafts over from a neighboring coffee bar as Carla Scaletti and Kurt Hebel demonstrate the new features of Kyma 4.5 to overflow crowds of audio professionals at the AES show in New York City September 26-29 1997:
(Thanks to Joel Chadabe for taking these photos!)
Pete Johnston (Tape Gallery), Chris Nicholls (Electronic Arts), Dan Karron (Computer Aided Surgery), Kurt Hebel (Symbolic Sound)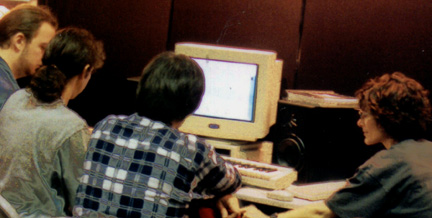 Following the conference, Scaletti and Hebel presented two workshops for local Kyma users. The first was at the invitation of Elias Tanenbaum, professor emeritus at the Manhattan School of Music. Later that evening, Rob Sayers sponsored and evening workshop at Red Car studios. Workshop participants included: Elias Tanenbaum, Pierre Chavet, Rob Sayers, Stanley Cowell, Kris Thorisson, Jim Huebotter, Pete Johnston, Chris Ianuzzi, Skip Brunner, Fred Szymanski, Bill Rust, and several students from the Manhattan School of Music and the Brooklyn Conservatory of Music.
Kyma on Mount Olympus
Kyma was well-represented at the International Computer Music Conference in Thessaloniki Greece (also September 26-29 1997). Several music compositions, technical papers, and demos made use of Kyma, and Kyma-user Lippold Haken used his Kyma tote bag as a backpack for hiking to the summit of Mt Olympus!
[photo taken at the summit to be scanned soon...]
Kyma in the Canadian Rockies
At the 1995 ICMC in Banff, some of the Kyma users got together for a birds-of-a-feather dinner:
Carla Scaletti, Adelhard Roidinger, Kazuo Uehara, Fred Szymanski, Chip Leh
Ivar Frounberg, Paul Berg, Joran Rudi, Kurt J. Hebel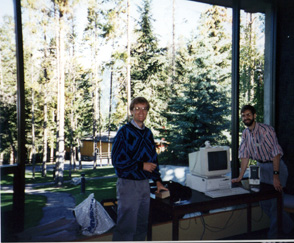 Lippold Haken and Kurt J. Hebel set up the satellite station for Public Organ in the foyer of the concert hall.
Ghost of Trade Shows Past...
The 1996 AES show in LA...
The 1995 AES show in New York...